Abstract Oil painting thousands of brushstrokes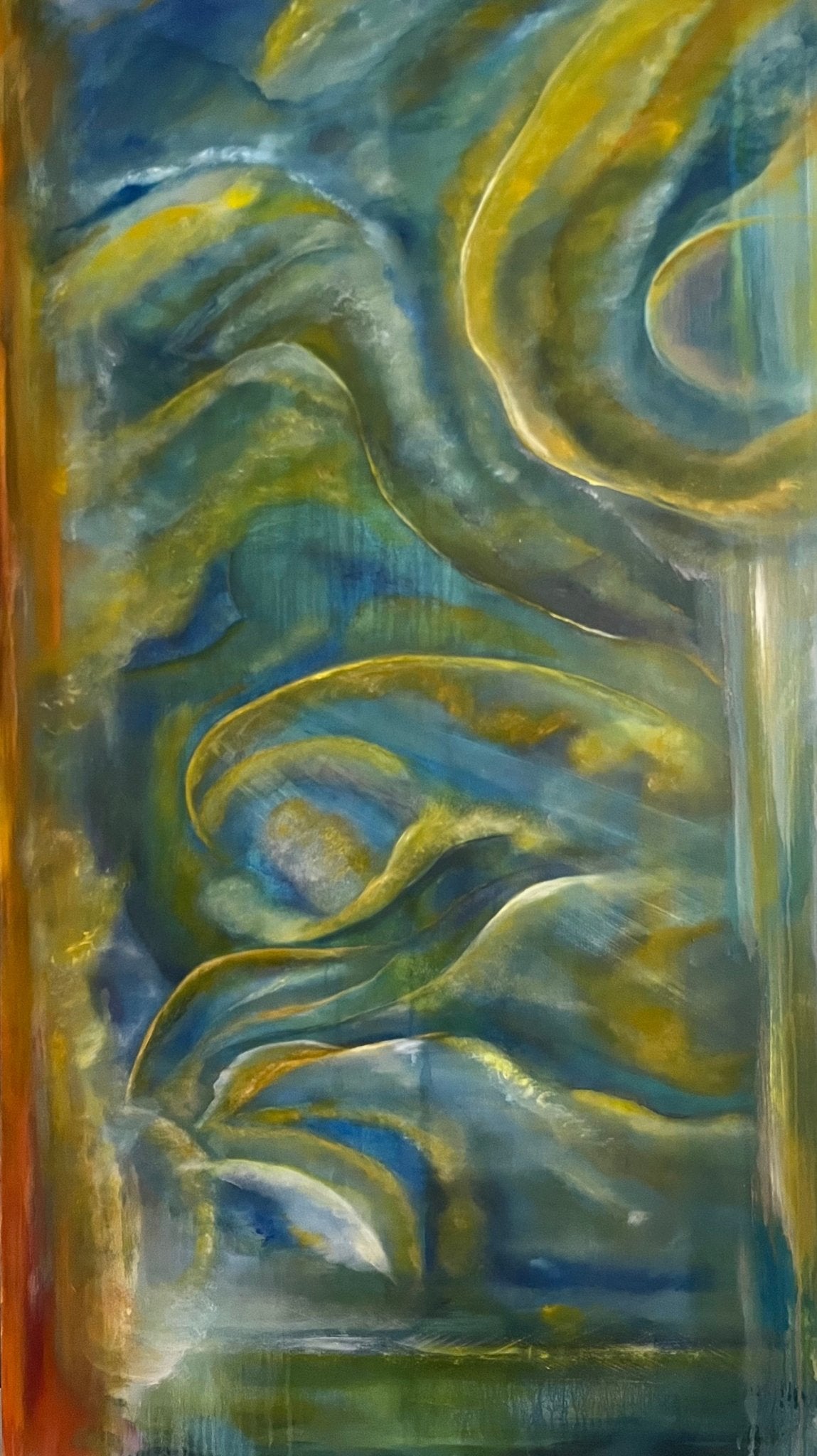 Abstract Oil painting thousands of brushstrokes
So many has asked about details in my abstract oil paintings so  I'm going to de-construct my most recent painting.
Because the  painting seems to be about shapes of color and line as that's why your eyes see first.
This painting is all about the details.
There are multiple layers of colors,some thinly applied,some thickly applied.Some colors are more transparent then others,conversely some colors more opaque then others.
I've never used just one brand of oil color in my creative process,I use several top quality brands including Maimeri,Schmincke,Michael Harding,Williamsburg and Old Holland to name a few.
In addition,I use 2 oil mediums that add transparency and slow the drying time,Stand oil and Venice turpentine.
Slowing down the drying time allows me to work into and on top of the layers of paint.
While looking at the details you may notice  the brush work.Different sizes and different textures of brushes work to create the details and all of shapes and lines in a painting.
I used  close to 50 varieties of brushes when making this painting.There are rounds,flats,Filberts all of different widths.
Many  are synthetic,some bristle and some natural hair.In addition I use large bristle brushes usually referred as "Varnish brushes"
These are large bristle brushes that hold and blend large quantity of paint and can create sweeping brushstrokes.
This painting is all about the brushwork.This painting contains thousands and thousands of brushstrokes.The details are in the thousands of brushstrokes.
Abstract Oil painting thousands of brushstrokes
I've included several detail pictures from the painting.
"Outside finding stars",oil on Hand-stretched canvas,38"
 https://www.tiktok.com@laurierubell
 https://www.Instagram.com/Laurierubell
https://www.facebook.com/abstractoilpainting
https://youtube.com/@laurierubellabstractoilonc2193

Twitter@RubellLaurie


https//www.linkedin.com/in/laurie-rubell-2b79137
https://www.google.com/search?q=Laurie+Rubell+google+my+business&ie=UTF-8&oe=UTF-8&hl=en-us&client=safari