Laurie Rubell Abstract oil on canvas(Diptychs)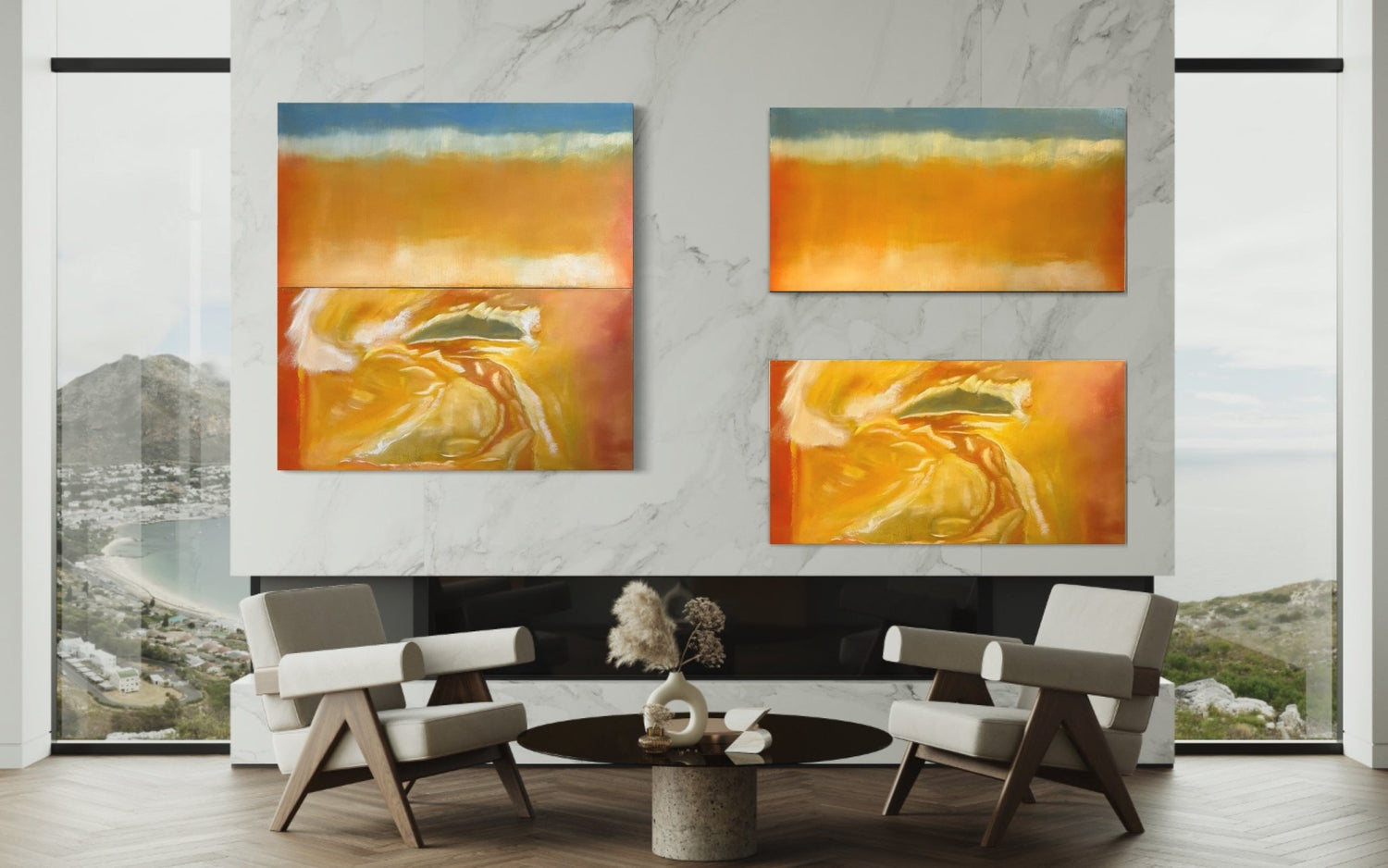 Laurie Rubell Abstract oil on canvas(Diptychs.)
Why would I even consider using 2 canvases to make one painting? The idea seems more abstract then any abstract painting I've ever made.
In addition,I wanted to create unique artwork,paintings whose colors and imagery would expand beyond the edges of the canvas.Paintings that would speak to the wall and interior space in which they were hung.
For instance, an interior/exterior  where artwork defines and creates an innovative space,an ingenious atmosphere,original and unique.
So I started experimenting with 2 canvas paintings mid career and found the experience challenging,with different elements of creativity and color,line and space elements that needed to be solved.A visual puzzle,with large expanses of color and line to define the space within and outside of each canvas.
As a result,both canvases work together in creating one painting,one unique original work of art. 
The goals were to expand creativity,expand my vision and look beyond the physical canvas. 
How the edges of the canvas relate to the edges of another canvas?How does the space within  each canvas relate to each other?Do they attract or repel each other?
Do they create one large expanse or 2 separate expanses of color?
How do the 2 canvas affect the surrounding space?..And what happens when you pull them apart or separate them?
I recently added images to all of my Diptych paintings on my website  showing these different views.Paintings together or apart? 
https://www.facebook.com/abstractoilpainting/
https://www.Instagram.com/Laurierubell
https//www.linkedin.com/in/laurie-rubell-2b79137
https://www.tiktok.com/@laurierubell
https://www.youtube.com/@laurierubellabstractoilonc2193

https://www.google.com/search?q=Laurie+Rubell+google+my+business&ie=UTF-8&oe=UTF-8&hl=en-us&client=safari
Laurie Rubell Abstract oil on canvas(Diptychs)
Artist
Art
oil paint
Abstract
paintbrush